Sunshine Party Jumps Inflatable Slide Rentals
Sunshine Party Jumps is providing quality inflatable dry slide rentals to Tulsa, Oklahoma & surrounding communities! Our slide rentals are offered in a 4hr rental time! For an additional $50 to any slide rental, you can keep it for a full day (24 hours total).
Sunshine Party Jumps will also deliver to Jenks Sapulpa, Glenpool, Bixby, Broken Arrow, Coweta, Muskogee, Wagoner, Catoosa, Owasso, Collinsville, Claremore, Sperry, Skiatook, & Sand Springs! Add the item interested to your cart, proceed to checkout, and fill out your info to receive an instant price quote for delivery to your area!
Click any item for more details and pictures!
Professional delivery to
Bixby, OK, Broken Arrow, OK, Jenks, OK, Sapulpa, OK, Tulsa, OK, Glenpool. OK, Coweta, OK, Muskogee, OK, Wagoner, OK, Porter, OK, Catoosa, OK, Owasso, OK, Collinsville, OK, Claremore, OK, Sperry, OK, Skiatook, OK, Sand Springs, OK, Tahlequah, OK, Fort Gibson, OK
and surrounding areas. Please submit a quote or contact us to be sure we service your area.
Large inflatable slides can be so enjoyable as you can race down them and then go up over and over. These slides can only be rental dry.
Are you planning an outdoor event and looking for a way to add some excitement and entertainment? Dry slide rentals might be the right solution for you! These inflatable slides can be set up anywhere outdoors without the need for water, and they are easy to use. A dry slide is perfect for any kind of gathering, including a birthday party and family reunions. The inflatable slope is fun for both kids and adults.
They are not only fun and thrilling but also safe and simple to use. These slides come in many sizes and themes, so you can find one that suits your event. In addition, dry slides are an affordable option for adding some excitement to any occasion. Imagine the smiles on your guests' faces while they have a blast sliding down the inflatable slope. Rent a dry slide now to add excitement to your outdoor event.
Flamin Volcano Dry Slide
from $325.00
King Crab Dry Slide
from $285.00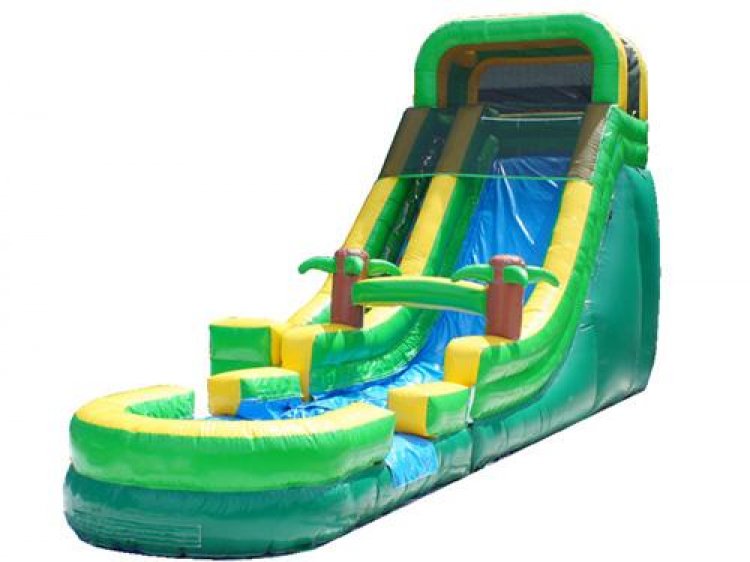 Tropical Dry Slide
from $285.00